I started using coconut oil about a year ago on the advice of a friend.  At first I just put it in my oatmeal in the mornings, now I find myself using it for many things including baking, as a scalp treatment and also as a facial moisturizer.
 Why coconut? Coconut oil contains lauric acid which is a medium chain fatty acid. This acid is responsible for the many health benefits associated with coconut oil.  The only other abundant source of lauric acid in nature is found in mother's breast milk. Some experts claim that coconut oil is the "healthiest oil on earth". Coconut oil has anti-microbial and anti-viral properties so it's no wonder that the list of health benefits is a mile long!  It is also heat resistant so you can cook with it too!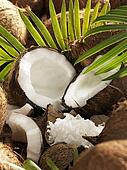 Ok so some of you may be thinking about the fat content in this oil and wondering if it will make you gain weight or increase your cholesterol levels.  The truth is that the fat in coconut oil is quickly digested by the body and is therefore quite therapeutic.  The fatty acids actually help your body burn excess fats so this oil can actually help you lose weight!  Lauric acid helps to lower cholesterol and also keeps LDL (bad cholesterol) levels in check.
 Coconut oil can help with the following:
Asthma
Baldness
Bruising
Burns
Constipation
AIDS
Painful menstruation
Dry skin
Inflammation
Weight loss
Cancer
Diabetes
Heart Disease….and much much more!!!!
I absolutely love it as a facial moisturizer; it soaks right into your skin and is not greasy at all. You can use it instead of butter on your toast, popcorn and even to coat your pan when cooking. 
 For more information I highly recommend the book "The Coconut Cure" by Bruce Fife. I use Alpha Health Products, DME Extra Virgin Coconut Oil which can be found at your local health food store. 
-Heidi