If you are like me and most of the women I know, you may have tried some form of meditation only to feel like a total failure.  You have likely found it hard to quiet your mind as it races and reminds you of all the things you should be doing other than sitting quietly and focusing on your breath. Instead of giving up on meditation all together I decided to try something more active to try and quiet my mind and de-stress.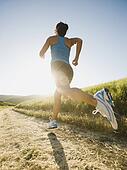 Here are a few suggestions of what I call 'active meditations' you can try.  Keep in mind you can modify these to meet your own needs.
Concentrate on your footsteps as you walk – you can do this anytime, while you walk to your car in the parking lot at lunch, climbing the stairs at work, walking down the halls to get your kids at school etc.  I also find it helpful to focus on my footsteps and in my head note which foot is hitting the ground "left foot, right foot"
Focus on a mantra and chant it in your head while you workout or run – "I enjoy my life!" or my personal favorite "My cellulite is melting!"
Tune into the sounds of the world the next time you go for a walk – concentrate on all the sounds you hear without labeling them as good or bad or what they are, just listen. Count the different sounds you hear
Practice "Just one dish" the next time you find yourself doing the dishes.  Concentrate on the bubbles in the water.  Observe the way the water flows down the plate as you slowly wash both sides.  The key here is to be fully present in what you are doing.  Notice all the details.  You can incorporate this while doing any household chore or activity.
I find by engaging in something physical and giving my mind something to do, I am able to focus and in turn I feel calmer and less stressed.
-Heidi