Today is Christmas Eve Eve. Even though this week was spent finishing crafts I decided on tackling last minute and braving stores for some late shopping, I was very touched at some of the heartwarming people I came across this busy holiday season. Expecting to get run over by a manic shopper trying to beat me to the checkout or falling a victim of road rage as someone honks their horn and utters threats when I take a few extra seconds to park my car (sound familiar?), this year things were different.
 I ran into one store and standing by the entrance was an elderly man from the Salvation Army that was taking donations as people came in and out.  I smiled as I walked by thinking to myself that I will drop some change on my way out.  As I completed my transaction I dug into my pocket and got my change ready.  As I handed the gentleman the money, he smiled and gave me a big warm hug and thanked me for smiling at him on my way in.  I was so touched by his kindness and wondered, is a smile all it takes to make someone's day?  Could life be that simple? 
 I went on to pull into the gas station to fuel up and grab a tea before hitting the other stores on my list.  I saw Bob, a guy that works across the street from my office who I occasionally give rides to since he doesn't drive. He's a simple man and from what I can tell by our brief conversations, doesn't seem to have much. Yet despite his situation every time I see him he is friendly and polite and is proud that he remembers my name.  I say hello as I pass him on my way into Tim's and ask him if I can buy him a coffee.  His face lit up as he told me his order and I headed in and got in line.  What he doesn't realize is that yes I bought him a coffee and maybe I give him lifts across town every now and then, but he has given me something far more important.  He has made me realize that it doesn't matter what your situation is, there is always something to smile and be thankful for.  If hope had a face, it would be Bob's. 
My day of errands continued on this way. It turned out to be a day of reflection on what this time of year means to me and how I want to be all year around.  I started thinking about my kids and how I want to make sure that they understand that Christmas is more about love and togetherness than it is about what they are getting under the tree.  I know, now I sound like Dr. Seuss……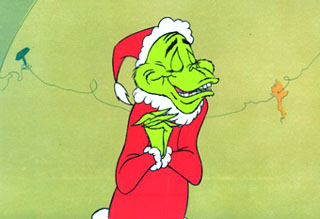 I thought about things that we do as a family and things I'd like to start doing to capture the true feeling of Christmas. Some of these ideas are things we already do; some are borrowed ideas from friends, some just ideas that came to mind.  Many of these things can be adapted and used throughout the year.  Imagine if we all had a little more Christmas spirit all year long?
 Buy a coffee for a stranger- I've been on both sides of this and it feels great either way
Christmas Carol in your neighborhood – belt out your favorite songs even if you feel silly.  Good way to feel like a kid again and lighten up!
Give handmade gifts – much more thoughtful and meaningful for both you and the special person you give it to
Build a snowman – complete with pipe, button nose and two eyes made out of cole.  Don't forget the magic hat!!
PJ Day – pick a day over the holidays that you will turn off the phone and stay in your jammies and play games, watch movies or catch up on the reading you've been meaning to do.
Donate gently used toys to Charity – my kids are very fortunate and tend to get spoiled all year long so one thing we do over the holidays is purge the playroom.  The kids get involved going through their stuff and making a box to give away.  It helps them realize how lucky they are and they feel good about doing it
Make Snow Angels – get the kids involved and make a snow angel family.  Best when it is lightly snowing so you can also catch snowflakes on your tongue
Write a letter to someone special – tell them how much you love and appreciate them
Attend Christmas Eve Service – many churches have candlelight services which are really pretty and joyful
Support a local family in need – for the past few years our office has sponsored a family in need instead of gift giving. Knowing we make the holidays a little brighter for some kids makes us all very happy 
Give the gift of time -visit a local Nursing home/Seniors Centre – many elderly people are lonely this time of year.  Nothing is better than the gift of time.  
Smile more and wish people a Happy Holiday or Merry Christmas more often – Happiness is contagious.  Spread as much of it as you can.
 Whatever your situation is this holiday season my wish is that you feel peace and love as it carries you into a new year.
 Wishing you and yours a Happy Holiday and all the best in 2012.
 -Heidi